Reading for Pleasure
Welcome to our reading for pleasure page. Here you will find out what we are all reading as well as lots of reading resources and fun reading ideas.
---
Don't forget our new school virtual library is there to explore - Virtual library
---
We are currently reading Malamander by Thomas Taylor in Reading workshop and Lonny Quike by Kirsty Applebaum as our story at the end of the day. We are also using Henry VIII's Secret Diary by Terry Deary in English.
Our class author this term isy Catherine Doyle.
Click here to listen to a book trailer for The Storm Keeper's Island: https://www.youtube.com/watch?v=WyA1WmcfZGs
Catherine Doyle also wrote these books that you might want to read:
---
The books we have read together as a class so far this year are :
---
Let us know what you are reading - send a photograph of you with what you are currently reading. Is it a newspaper, non-fiction book, fiction story or auto-biography?
Mrs Long-Melton is currently reading The Christmasaurus and the Naughty List by Tom Fletcher. This is the most recent story in the Christmasaurus trilogy. They are amazing books about a little boy called William Trundle and the adventures he has with the Christmasaurus in the North Pole. The first two books are magical stories that I love to read every Christmas, and this new book is not disappointing. Read a Christmasaurus book if you can this Christmas - they are beautifully written and illustrated - and the first one even has it's own sound track! There is even a Christmasaurus picture book available if you don't want to read a novel!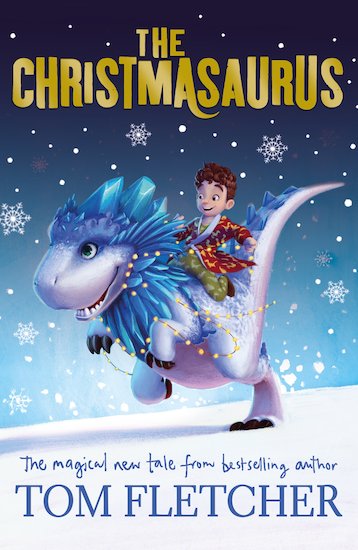 Click here to watch Tom Fletcher reading some of the Christmasaurus : https://www.youtube.com/watch?v=VDXcpbHlgHI
---
Here is our Bookflix review for you to complete each time you finish a book at home : Bookflix review
Click here to read our Bookflix reviews:
---
BOOK BLANKETS
Here's Mrs Long-Melton's book blanket with some of her favourite books on. Could you create your own, take a photograph and email it to clong-melton@walesprimary.co.uk.
---
First News - 19th February 2021
First News - 5th February 2021
---
Some great reading resources:
Files to Download